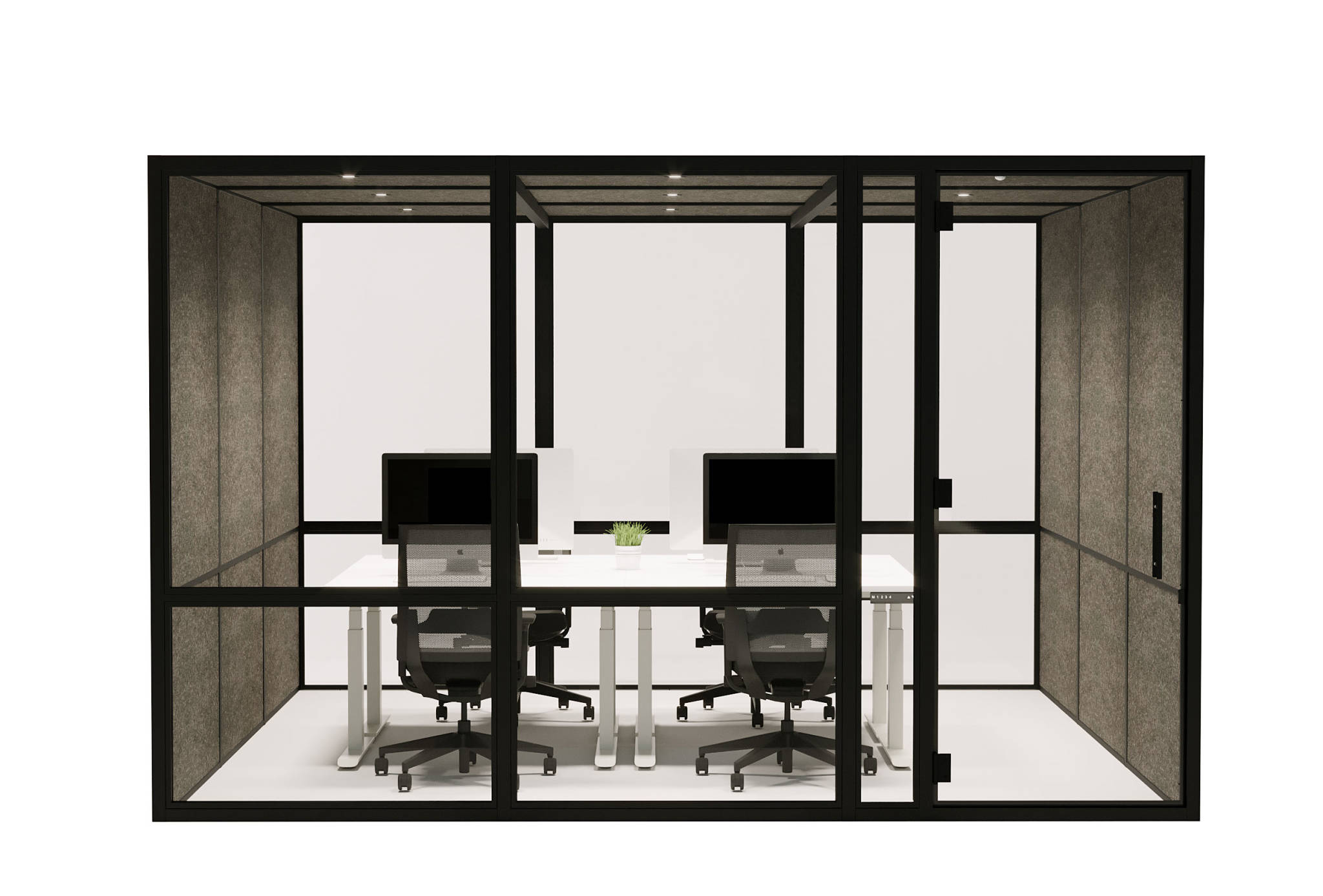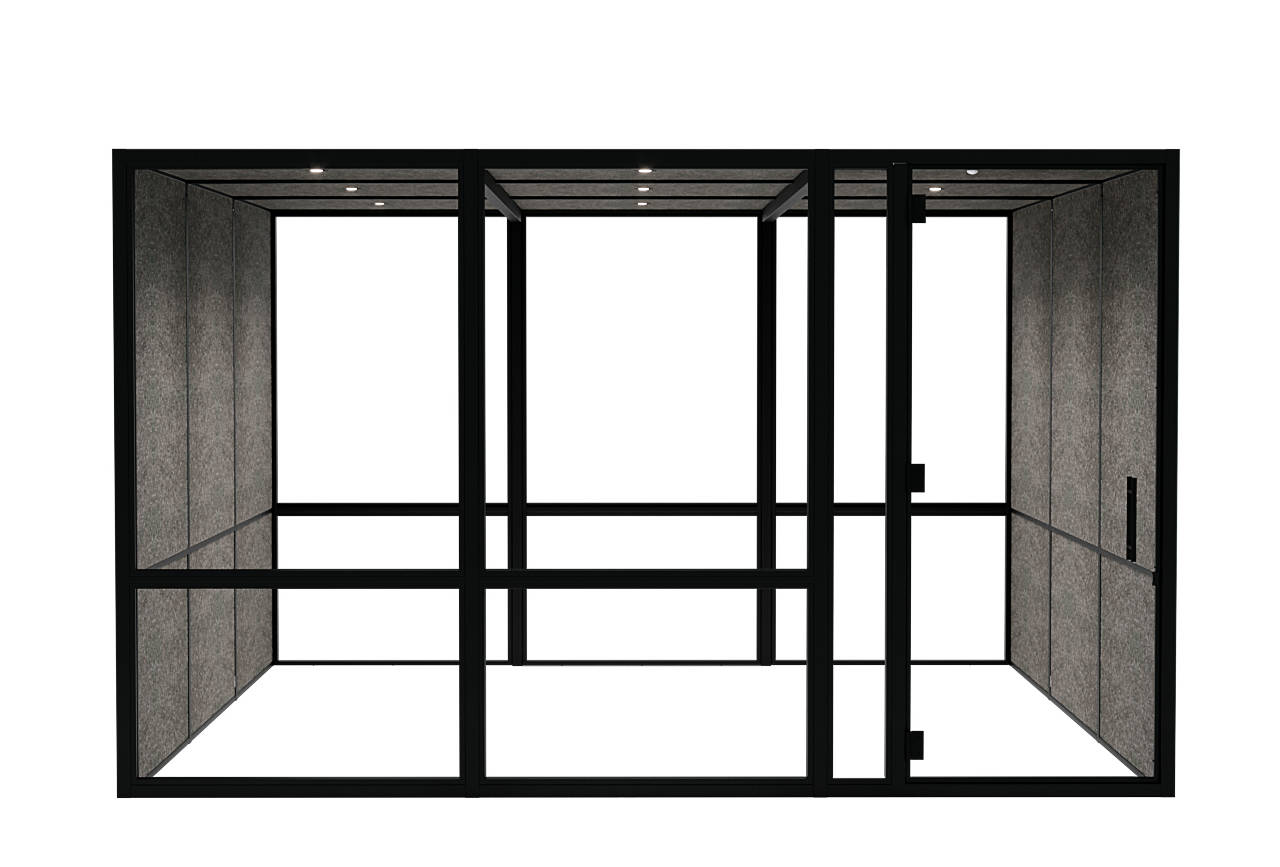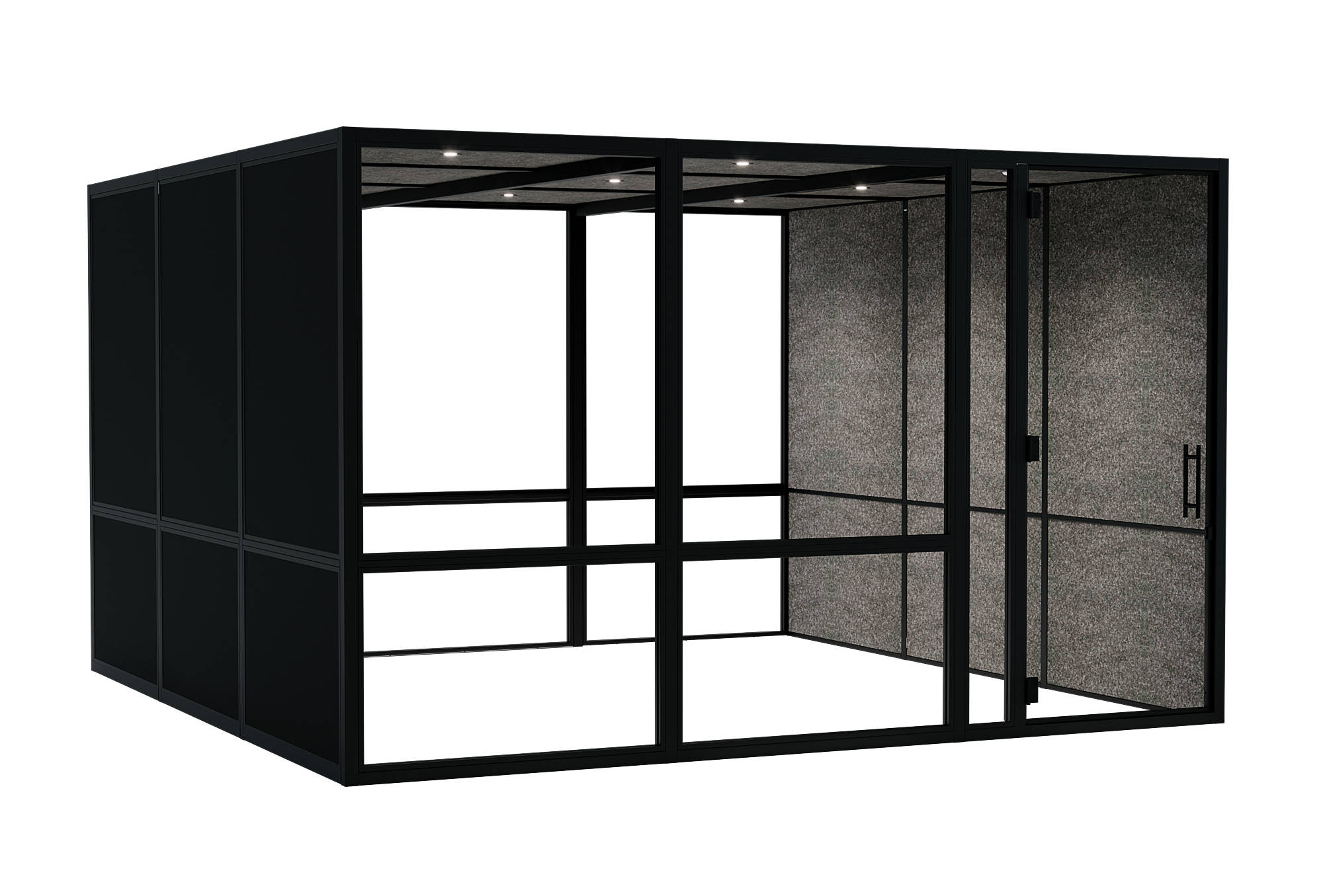 Specifications
| | |
| --- | --- |
| Depth outer dimension | 380 cm |
| Expandable | Yes |
| Exterior color | Black |
| Exterior material | Steel / Melamine |
| Exterior panel color | Black |
| Height outer dimension | 232 cm |
| Included interior | No |
| Interior color | Dark grey |
| Interior material | PET felt |
| Number of persons | 9 |
| Width outer size | 380 cm |
| Color | Black |
| Width | 380 cm |
| Height | 240 cm incl. Fans |
| Length | 380 cm |
| Material | Steel, sound-insulating wood, acoustic felt |
Product information
With the Meetingbox Amsterdam XL, you create your own movable meeting unit in your (new) flexible working environment. Or do you secretly claim this wonderful workplace for you and your colleague(s)? The ingenious mounting system allows the Meetingbox to be placed in any part of the room. With this multifunctional unit, you are not stuck to the structure of your working environment. In addition, the box can be connected using only 1 plug after installation. Unprecedented flexibility. Sounds good, right?

The box is equipped with dimmable lighting, soundproof glass and a lockable door. Also important for the productivity of you and your staff: there is a pleasant climate due to the ventilation system, moreover the inside is completely covered with beautiful acoustic PET felt in the color dark gray. With these high-quality and durable recycled and soundproof materials, quality is guaranteed. In addition, an eye for design, the Meetingbox Amsterdam XL is a real hotspot for every working environment.

A meeting has never been this efficient! With the pleasant climate, soundproofing materials, open atmosphere and inspiring design, you and your colleagues will be able to come up with the best ideas that will take your company to the next level. The XL variant of the box offers space for a maximum of 12 people in a meeting.

Do you use the box as a workspace? The advantage is that you work in a closed environment, but still have a view on your other colleagues in the room. Win win! Moreover, there is enough room for a personal conversation with a colleague or to handle an important call. You can work with a maximum of 4 people in the Meetingbox Amsterdam XL.

The Meetingbox Amsterdam XL: high-quality material, multifunctional for use, and always and everywhere flexible!